What is MCO Visa Card?
This cryptocurrency Visa card utilizes MCO cryptocurrency token that was created with the vision to make cryptocurrency usability a problem of the past. Besides MCO, it's possible to buy, sell and send several other cryptocurrencies and fiat with the help of the app and card. Previously known as Monaco, the company announced its rebrand to Crypto.com on July 6th, 2018. Crypto.com website promotes their MCO Visa Card and Crypto.com Wallet & Card App.

Visa Card Products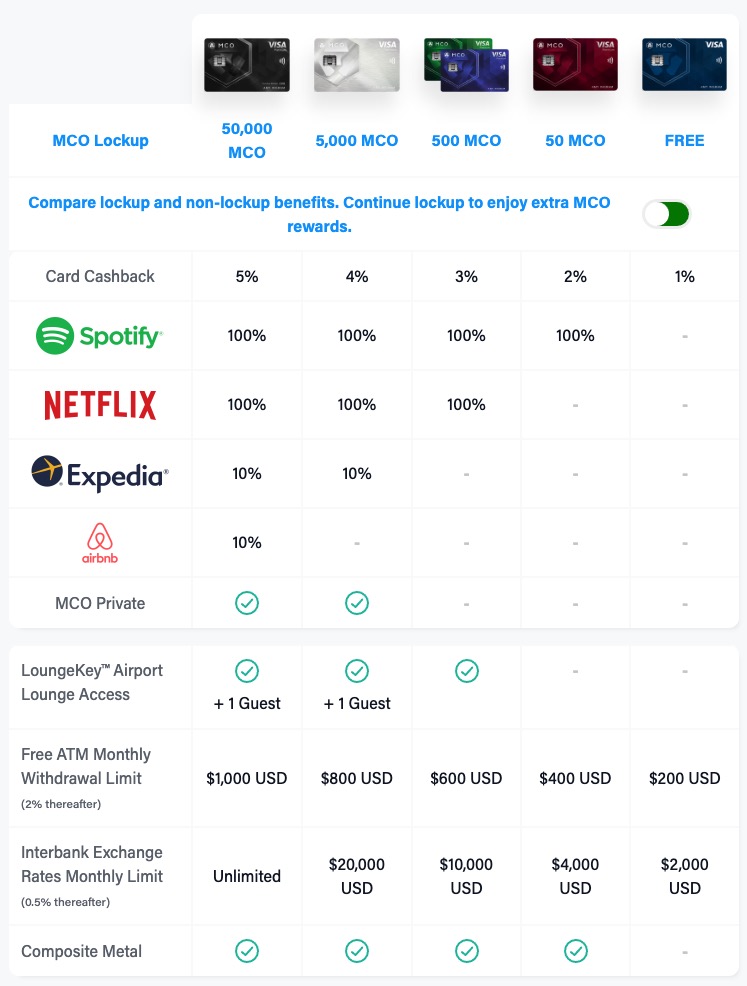 There are a few different cards that can be purchased by staking the native cryptocurrency token. Although it is not listed on the front of the site, there is a blue card that is free and no staking will be required to use it. Each card has different perks that include cash back, sign up bonuses, fee reductions, and investment discounts. The cards can be used wherever Visa is accepted and so these cards can be redeemed at millions of online and physical stores. Each card features free shipping, and users can earn up to 5% cash back on purchases.
Apply for the card
Sign up and order your MCO Visa Card by entering your email and by downloading Crypto.com Wallet & Card App. Besides an email address you'll need a phone number and an identification document for KYC (Know Your Customer) purposes.
Get a $50 sign up bonus in MCO (MCOs worth of 50 USD) when you stake 50 MCO. When registering, use the code: hs3qceqnd8
Cash Back
Select companies have better cash back rewards which include Netflix, Spotify, Expedia, and Airbnb.
ATM Fees
ATM fees are a nightmare for most credit/debit card users. However, all cardholders with crypto.com can enjoy free withdraws. These withdraws can range from $200-1000 a month, depending on the card. After the limit is reached for the month 2% will be charged.
Mobile Usage
The crypto.com mobile app is available through Google and Apple. The Apple store has a rating of 3.9 and 3.7 on the Google Play store. The application has a smooth interphase so even Beginner users will be able to effectively use the platform and make the most out of it.
Fees
When depositing cryptocurrency into the wallet no fees will be taken. When exchanging cryptocurrency through the crypto.com exchange, no fees will be taken either. A small fee is taken however when cryptocurrency is sent to an external address from the wallet.
Crypto Invest
Crypto Invest is a new integration to the crypto.com experience. Crypto Invest allows customers to get professional trading tools and portfolio tracking. This new platform allows users to automatically set up trades based on the market predicted trend. Since crypto.com was built on the framework of cryptocurrency usability, they have created an easy to use trading interphase so anyone can participate. When the market is predicted to go down, stablecoins are purchased so that fees don't need to incur from switching to fiat. Different risk management options will exist for traders who are more conservative or risky. This transparent platform allows users to withdraw with ease and without fees. The only fees that occur when using Crypto Invest are taken out of profits only. This feature is extremely helpful for users, as fees are only taken when profit is made so crypto.com has an incentive to make money. 9% of the total profits are taken out of the cards in which the native cryptocurrency was staked, or 18% is taken from the blue card that is completely free. The minimal investment that is needed is $20 USD.
Credit
Users who have cards with staked cryptocurrency or Bitcoin, can receive collateral and earn a line of credit. The rates at which can be borrowed are related to the stake or Bitcoin deposit, to receive the latest information the official site has refreshed plans.

For example: If $10,000 equivalent of MCO tokens is staked, then the customer will be able to spend $6000 of credit. The $6,000 has to be paid back at a later date, or the collateral will be used in order to pay back the face value.
Merchants
Merchants are able to use the platform and get an easy to use integration that can be used for their online business. The platform can accept the major currencies and can be easily converted into fiat or put directly on the debit card. This allows merchants to sell items and get instant payments as they would on traditional financial networks.